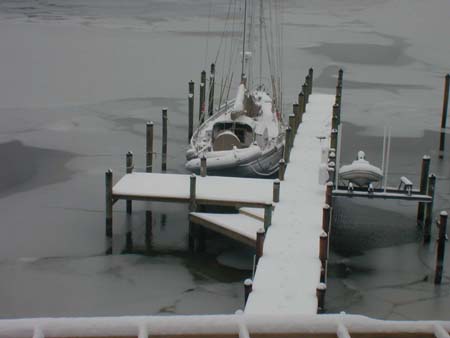 It was a snowy and cold winter… no need to tell anyone that. The cold and wetness put off maintenance and projects on Schooner Heron, so I'm rushing to get things done before our charter season opening on April 16th.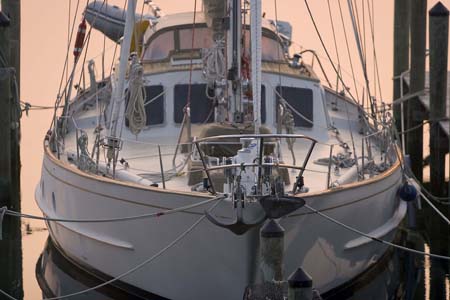 Projects for this spring include re-routing the main engine exhaust hose to prevent hydrolocking. This happened to us about 60 miles offhsore in sporty conditions when we made a quick September, 2009 trip to Block Island. Hydrolocking occurs when water is able to back up through the exhaust hose and enter the engine cylinders, preventing the pistons from moving. You can't compress water! But the initial symptoms can be confused with other problems. When you turn the key, you hear a clunk, then nothing… so, perhaps a dead battery? Corroded connections? But my good friend and master mariner Karl Westby, aboard for the trip, diagnosed it properly. My 100 hp 2-stroke Detroit was hydrolocked. We were sailors, without an engine. No worries. We had plenty of wind. Anyway, back to the project, the cure is to put a raised loop in the exhaust line to prevent siphoning. Sounds easy, but when you're working with 4″ rigid exhaust hose, and need to find room for the loop in very tight quarters with an aluminum infrastructure, it can get trying. I completed this job, after a lot of grunting and groaning and lots of cuts to the hands and arms, about two weeks ago.
Maintenance also includes new varnish for the toerails, oil for the teak in the cockpit and on top of the pilothouse… some electrical work, some plumbing… and LOTS of cleaning. We even need to bend on two more sails which have been plumped in a pile in a bedroom for the winter.
We'll be ready, and our first booked charter is April 18th, the Sunday of the Tiki Bar opening, and the second day of the rockfish season opening weekend. It's going to be crowded out there on the Bay!