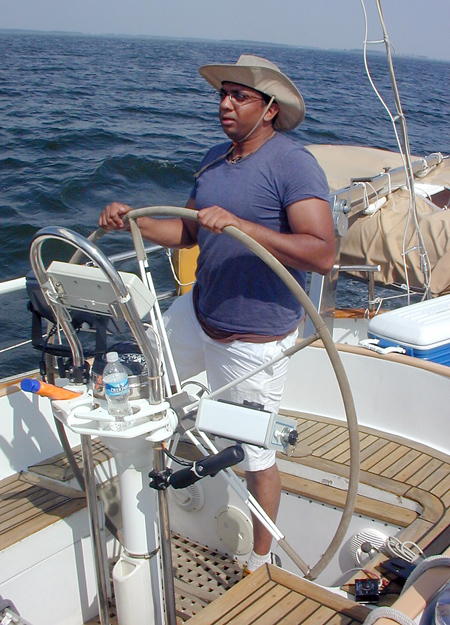 Ashwin really got into our day sail charter on the Chesapeake Bay. He was ready for some open water. He was like a sponge, soaking in everything about Schooner Heron, the sails, the water and wind… He did a great job at the helm, when we got out into the Bay, but first…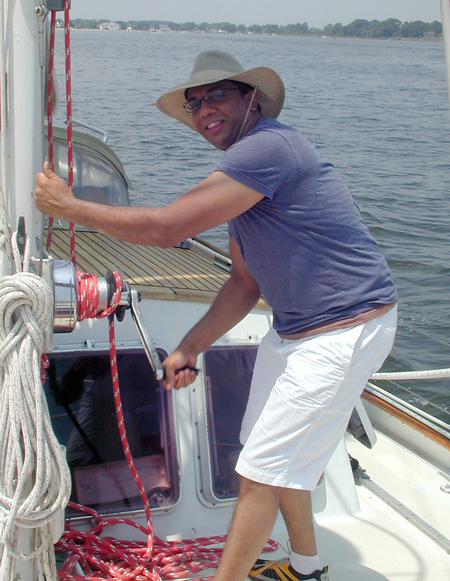 I put him to work, helping to get the mainsail up. This is one muscular guy. I understand from his friends that he spends a lot of time at the gym. "Dumbbells," he said. The perfect form of weight resistance training, forcing each arm to do its own work, improving coordination, balance. Along with Ashwin came friends Mindy, Diana and Carl. They are friends through a social networking group which plans lots of interesting outings and get-togethers, and it was my luck that they chose to go sailing on Heron as one of their adventures.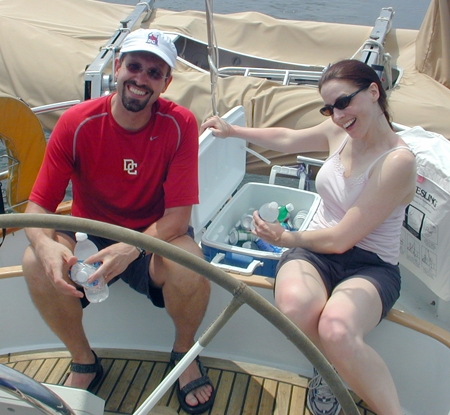 The drinks are on the afterdeck, on Heron… easily accessible during the day. It's getting warm out there, on these June afternoons, so it's important to hydrate hydrate hydrate. Carl and Diana met for the first time on this charter, I think. It's interesting to me when people meet for the first time when they come down to the boat because I'm meeting everyone for the first time. It doesn't take too long before it seems like we're all old friends.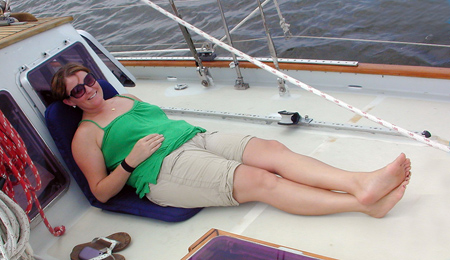 Mindy is a marketing person for Geico. She's even worn the gecko costume a few times in the past! She found her spot, and relaxed the day away. She might have even fallen asleep on and off. This is quite common, for folks to find a nice place and drift away for a while. The rocking and rolling of the boat, the breeze, the sounds of the water rushing by… It's hard NOT to fall asleep!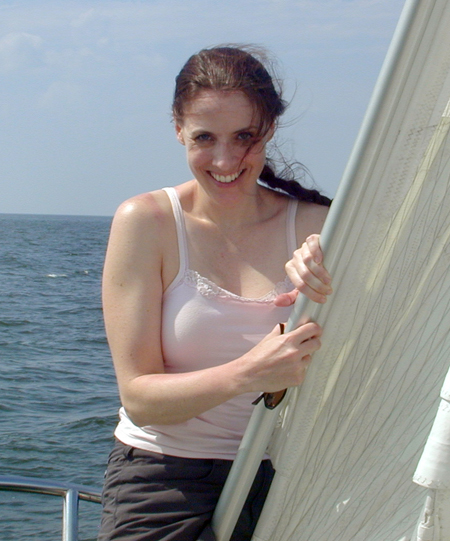 Diana found that sweet spot up on the bow, holding onto the headstay, and enjoyed the view. She is a Lieutenant in the Army, a pediatric nurse currently working at Walter Reed. During the day, as we chatted about all kinds of things, I was impressed by her broad knowledge on so many subjects. A smart lady doing admirable work.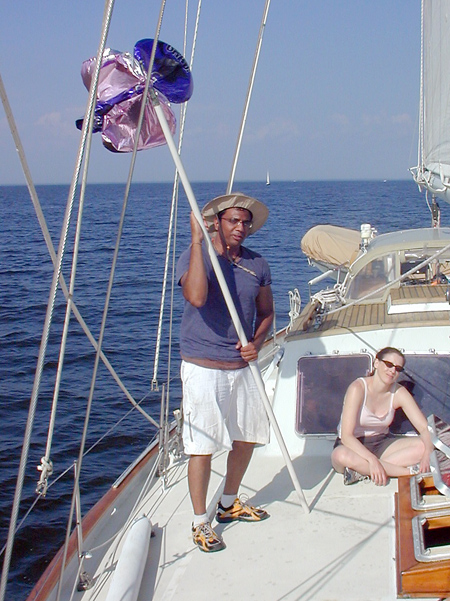 And, Behold! Ashwin, the Mighty Hunter, doing his thing. We spotted several aluminum party balloons tied together, floating on the water. These ultimately pop or deflate, and the shiny material is attractive to fish and other marine life, so they eat it… and die. We needed to get these out of the water. Ashwin grabbed the boat pole with its pointy end… I brought the boat alongside… and Ashwin plunged the spear through the heart of those balloons and came away with his prize. And the animals in the Bay were the better off for it.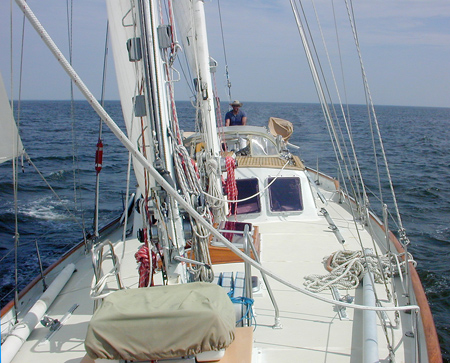 The wind picked up and held up during the afternoon. Ashwin spent a lot of time at the helm. Heron is a lot of boat to handle, and he gradually became familiar with her motion through the water and was able to steer a "relatively" straight course. I wonder where the rest of the crew was when I shot this photo.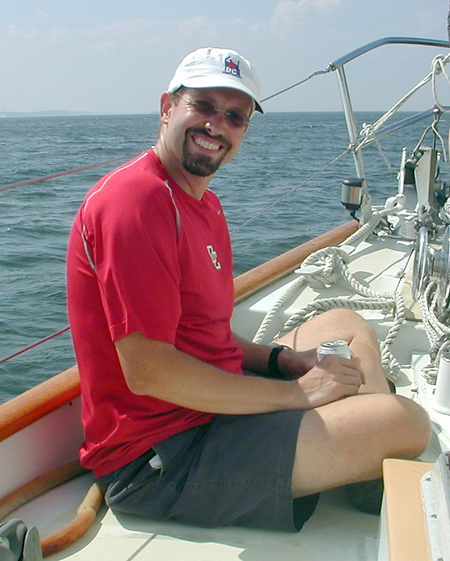 Carl, in July, I believe, is going to run in a race that I had never heard of before. It's a 24-hour race. You run on an 8-1/2 mile course (this one in Phili near the Schuylkill Parkway) for 24 hours,  and see how far you can get. 24 hours straight of running, walking, crawling, limping… Wow, what a challenge. I'm looking forward to hearing how he does on that. I wonder how you train for such a race?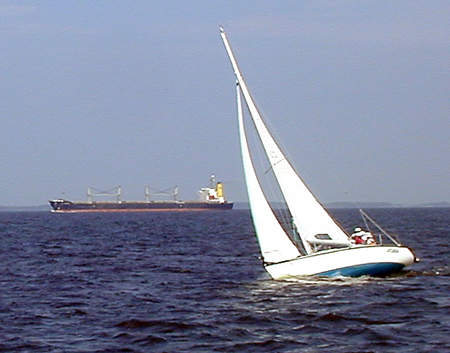 When you're out on the Chesapeake Bay, there are always other boats around, "traffic," that you need to be aware of. Heron is bigger than a lot of the boats, but there are plenty of large ships and tugs with barges around that dwarf my little schooner. And, it's not about size. There are rules-of-the-road to follow, and you need to be constantly aware of who is around, and who has right-of-way.
This was a really nice time, with Ashwin and Carl and Mindy and Diana. I appreciated getting to know them and look forward to seeing them all again.