June 5th brought a nice group of friends down to the boat, but they didn't bring any wind with them! It was a sunny day, pretty humid… Sailing on Schooner Heron works better if there's some good wind. Or any wind at all! Well, there was a little breeze, now and then, and we made some headway out into the Chesapeake Bay, but this wasn't like a few of the more exciting day sails we've had so far this season. I would love to be able to promise perfect conditions, every time, but alas, I don't have those powers. Still, we did move about a bit, and Sean did a good job at the wheel.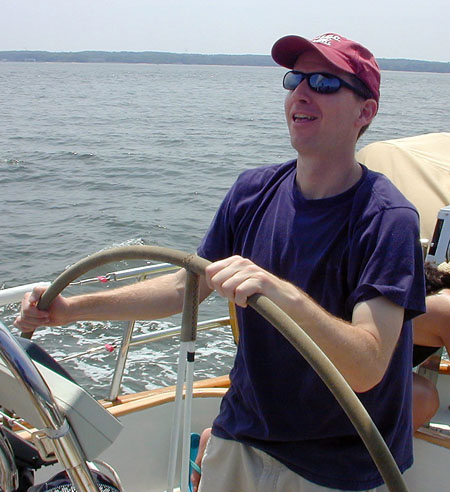 But, that didn't stop these folks from having a great time and enjoying their time together on the Bay. Look at this photo and tell me if I don't have a great job!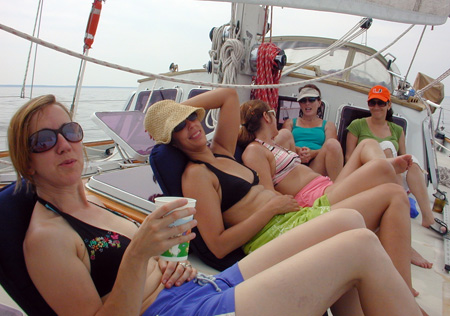 The flush deck of Heron provides a lot of room for people to spread out and be comfortable. With the sails up, there is usually a sunny side of the deck, and a shaded side, so you get to choose.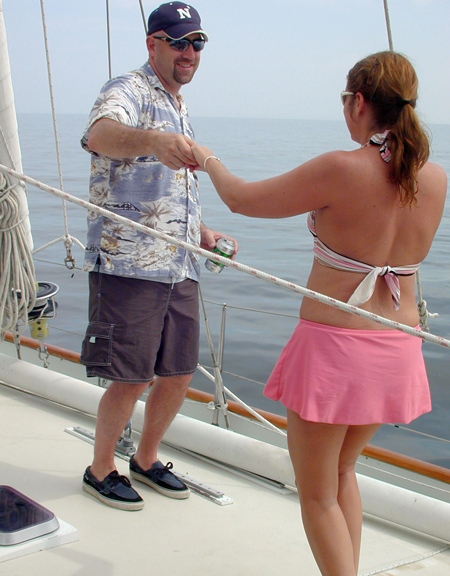 The broad flush deck amidships also turns out to be quite a good dance floor, as we found out. Several of these friends belong to a Cuban dance group, and Eric and Christine got up and showed us their moves to some music by Putumayo.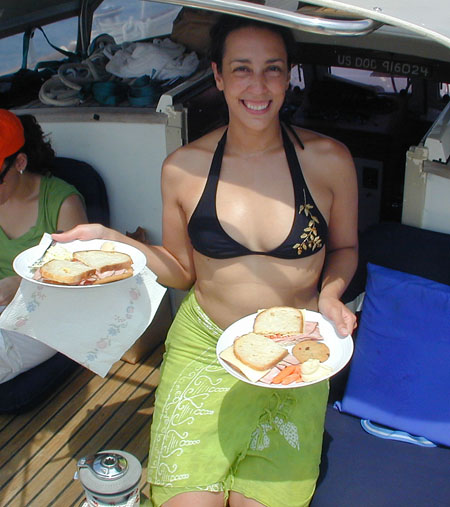 As usual, the food was good and enjoyed by all. Here Diana is handing out some goodies. I'm not sure why that is, but things in general seem to be enjoyed more on a boat. A fresh shower on a boat, for example, seems so much more refreshing than stepping into your shower at home. Why? Don't know. You even have to conserve water, so you wet down, shut off the water… do your hair, rinse that… then wet down your body and shut off the water… then soap up and quickly rinse… You don't have the luxury of running hot water over your body for twenty minutes, but for some reason, after you've been working the boat all day, sweating in the sun, or swimming in the salt water, a boat shower with warm or cool fresh water at the end of the day really sets you right up. Same with food. Maybe it's the expectation that "it's a boat" so you won't have good food. But, I'll tell you, I can cook a helluva great meal on my propane stove in the galley, or on a grill hung over the stern pulpit. Add a little good wine, some candlelight… and voila! You have a great meal while sitting at anchor somewhere beautiful, with the sun setting… the birds settling down for the night… and the stars popping out by the time you've finished your meal and come up on deck. But, I digress. During our charter daysails, I provide the fixin's for sandwiches, snacks, and softdrinks, and I contact you before the sailing day to see exactly what your preferences are for coldcuts, breads, etc. So, on board during your sailing day, you get exactly what you most enjoy… and I call that having a good time!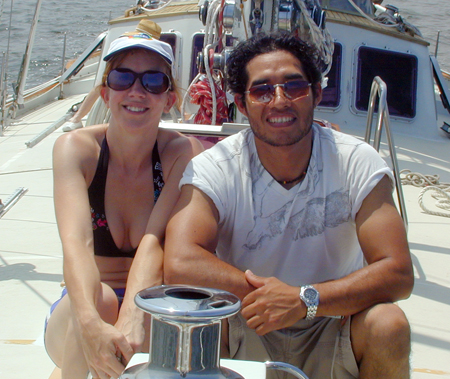 Dr. Kim (PhD in Wildlife Ecology and Management), here with friend Ronaldo, brought this group of friends together for a charter. They dance together, go out together, party together… so why not sail together? They were a great bunch of folks and I appreciate her efforts to make the charter day happen.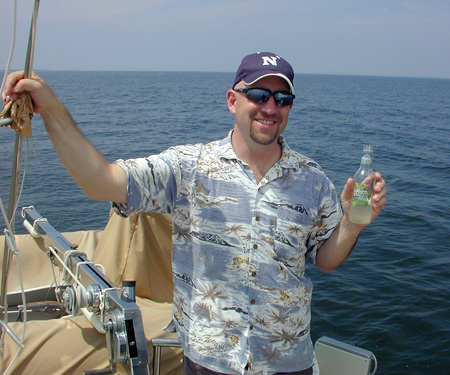 It was a hot day, and it was important to stay hydrated. Eric worked hard at that… all day long!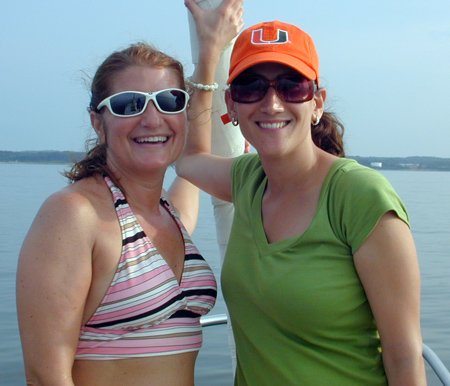 All in all, it was a really nice day. More wind would have been better, but that's sailing on the Chesapeake. If you want to get someplace fast, go on a powerboat. But when you're sailing, you sort of take what you get and make something out of it. We took the gentle breezes that were out on the Bay and made a great time of it. I enjoyed meeting everyone who was aboard this day, and I hope to see them all again sometime soon.