Rescheduling from a previous weekend, Steve and Lara and friends came down to Solomons Island, in Calvert County, Southern Maryland, for a sailing charter aboard Schooner Heron on a day that started out chilly, stayed chilly, and had more than enough wind to go around. But, they were prepared, with lots of warm layers, ear muffs, gloves, hats… The day turned out to be quite exhilarating. Here, Catalina and Lara are huddling to stay warm.
One of the most important features of a sailboat is the ability to reduce sail as the wind increases. Reducing sail means to put up smaller sails, reef the mainsail (make it smaller, by lowering a bit of it and tying that off), or in the case of furling sails (which roll up on themselves like a windowshade), to roll them in a bit.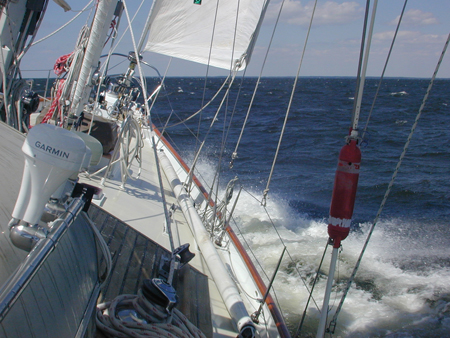 Keeping the boat balanced, by adjusting the sail plan so you have the pull of the sails, the "effort" balanced between the front sails and the back sails makes steering the boat much easier. With a schooner rig on Heron, because we have two masts and a wide variety of sails, it is easy to keep the boat balanced and comfortable. Here, Nelson is hanging on, doing a great job at the helm. Nelson has experience racing on small boats, and he has a great feel of the water.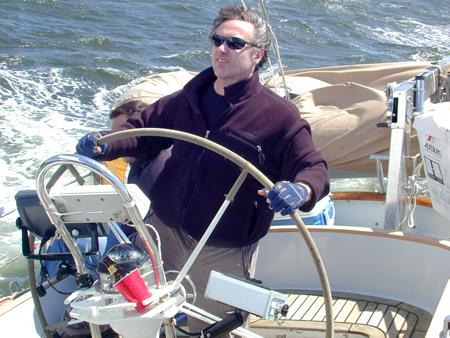 Another point to consider, with sailboats, is that as the wind increases and the boat begins to heel (this is when it gets to be fun!), the wind is spilled over the tops of the sails, so this acts as an automatic way to counteract the effects of sudden strong gusts of wind. Lots of wind, on a properly sailed and balanced boat, means lots of fun. I can't tell. Was Steve enjoying himself?
And even bundled up, sailing can be quite the romantic affair! Steve and Lara… they're under all those layers somewhere.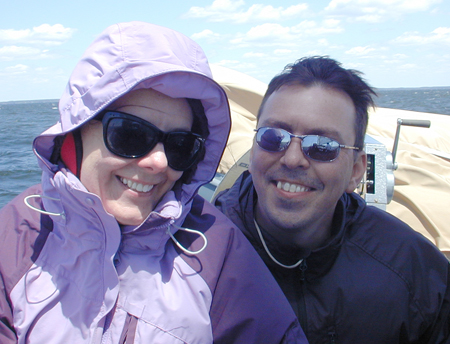 Now, with all the motion and action, did anyone begin to feel queasy? Nothing worth mentioning!!!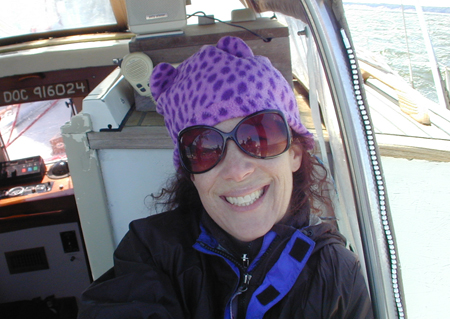 And this photo was definitely not staged. There was really something very important out there on the water.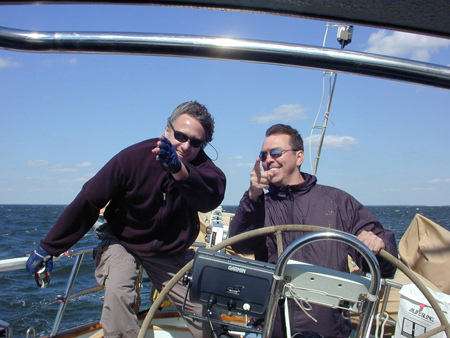 All in all, a great sail on the water with some great folks who loved the raw energy of the day. Another wonderful day for Schooner Heron Charters.
Tags: charter, charters, island, maryland, sailing, schooner, solomons island, wind