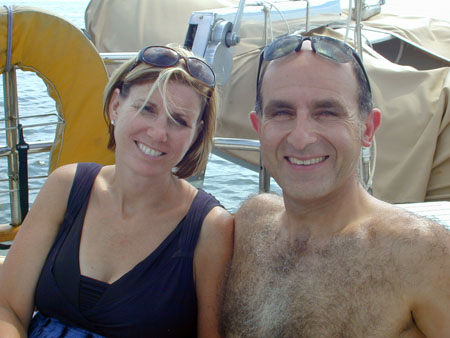 Sometimes you sense the presence of dignity in a person, and that's what I felt when I met Mohammad. There was just something quiet and strong about the man. But, I'm ahead of myself a little bit. Cindy booked the charter as a surprise for her husband to celebrate their 22nd wedding anniversary, and a surprise it was! The rest of the family: son Chaz, daughter Layla, and her fiance, Zach, were all in on it. But, Mohammad was clueless as to what was going on. They showed up at my house dressed like they were going to a 5-star restaurant for lunch. I came out to meet them. "You're going sailing dressed like that?" Mohammad said, "Oh, we're going sailing?" It was great. They came into the house, met my Zach (my 30-year old African Grey parrot), changed their clothes… and we were off to go sailing.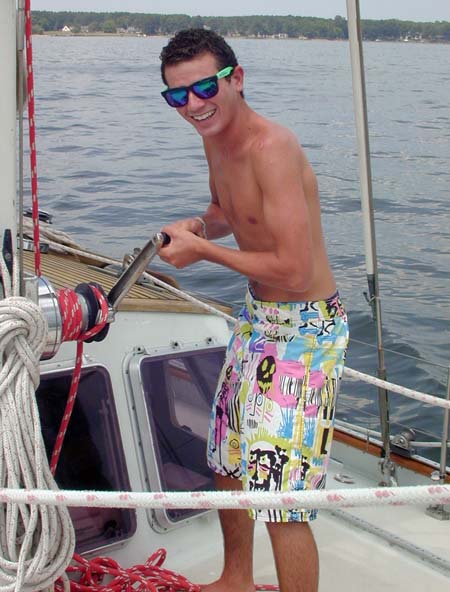 On my schooner, Heron, I can promise you when you make the drive down to Calvert County and Solomons Island to go out for a sail, I'll do everything I can to make your charter day as good as it can be. But, I can't control the weather. I can't make the sailing more or less exciting or peaceful. This particular day was a "variable" day, as they say… some wind… some movement of the boat… But, not terribly exciting. But, still, the sails had to go up, and as usual, I found a hearty soul willing to do the work. Chaz is a computer guy, still in school, but is also apparently quite the musician, piano being his specialty, and he also wants to make music be a big part of his life. I'm sorry I didn't get a chance to hear him play on one of my keyboards.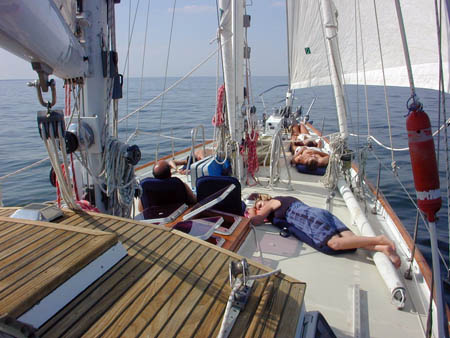 This was quite the peaceful day, and from the look of things, this was a well needed, relaxing day. It happens, all the time, that folks will find a spot with the amazingly comfortable blue cushions, and simply fall asleep. Ten minutes… half hour… an hour… Between the breeze, the motion of the boat, the gentle sounds of the water passing by the hull… they'll have the deepest and most relaxing nap that they've had in ages! But, this was a first for me, to have everyone sleeping at the same time! Actually, I loved it. I love that I can give people the chance to relax, to leave "it" all behind for the several hours that we're out on the Chesapeake Bay. If I could, I'd put the boat on autopilot and join in for a nap. I've been tempted…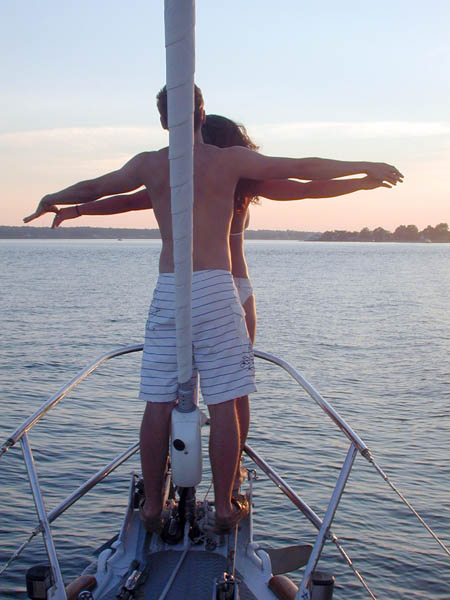 I suppose on boats worldwide, people do the "Titanic shot" and yet, this one, with Zach and Layla up forward, on such a pretty day, seemed especially poignant. THAT is a beautiful photograph, and THAT was a beautiful moment.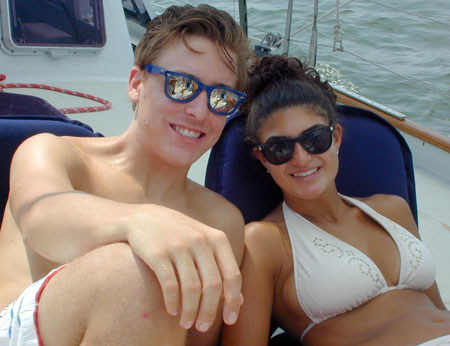 Zach is finishing up school, planning to be a financial adviser. Layla has a year left at UM dental hygiene school, and is already working as a hygienist this summer. If you look carefully… I know the photos are small… you can see some of the cleanest, whitest smiles…  It just feels really nice to meet a group of young people who are so obviously doing well in their lives, working hard to make things happen…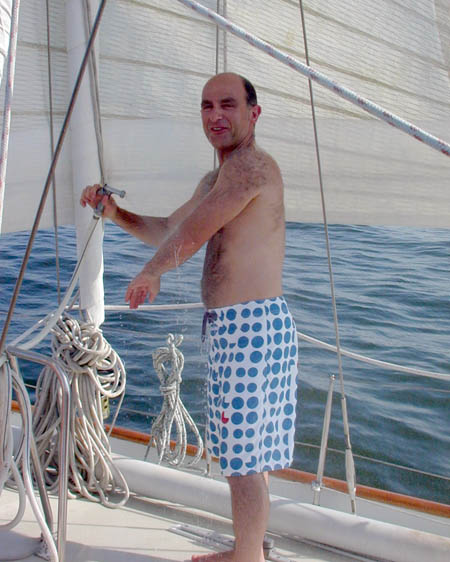 Now, I mentioned that I felt a tremendous sense of dignity in Mohammad. But, even dignified people can get warm on a hot Chesapeake Bay day. So, he cooled down with a fresh water spritz from my wash-down hose. This is primarily used to wash down the anchor chain before it is stored below, as you pull up the anchor from a muddy bottom. But, on hot days, the spritz of fresh water from my tanks is just what is needed to feel cooler and refreshed.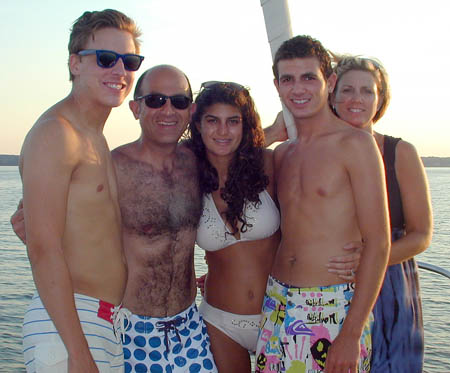 In most of my blog articles, I've used the expression, "Once again…" and this will be no different. Once again, this turned out to be a great family day, a way for a very close family to spend time together talking, laughing, sleeping, especially to celebrate 22 years of marriage. And once again, I felt honored to be able to share in this intimate time with a really nice group of people.
Tags: Add new tag, charter, Chesapeake, Chesapeake Bay, Heron, maryland, sailing, schooner, solomons, solomons island, wind