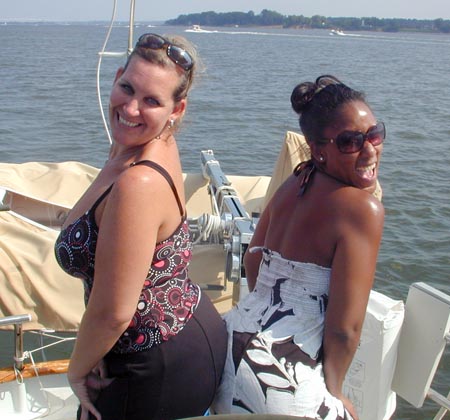 What can I say? These ladies were a great fun time! You're notice the husbands, Fermin and Miguel smiling in every shot. Our charter offering to take folks sailing on the Chesapeake Bay keeps bringing the coolest and nicest people down to Southern Maryland and Solomons Island.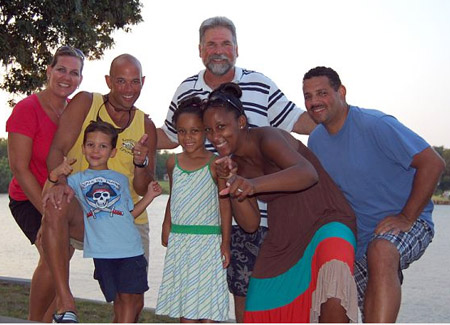 These two families, husband Fermin, wife Kirstie and son Elias, and husband Miguel, wife Stacy, and daughter Naiya are great friends, and they let me share in a bit of that friendship on the day we went out for a sail on Schooner Heron, looking for wind.
This turned out to be a really great family day. These two children were just a joy to be around. You couldn't find two better behaved and friendly children, anywhere. When they first pulled up in their car, and I went outside to meet them, little Elias jumped out, came running over, put his arms around me and said, "Are you the Captain? Thank you for taking us sailing." Jeez…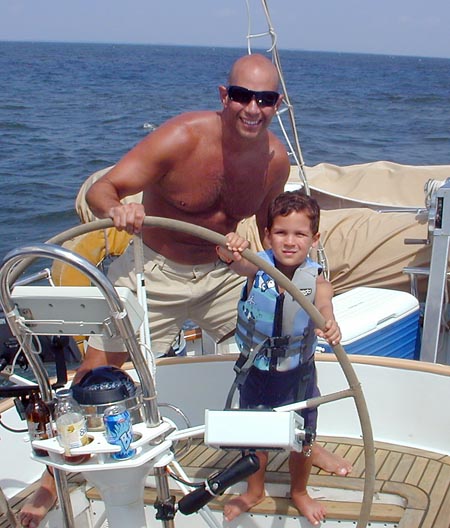 First Elias took a turn at the helm, helping his father Fermin figure out where to go…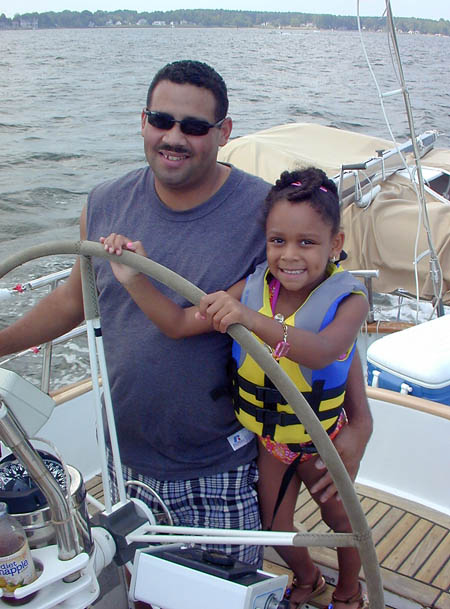 Then, it was Naiya's turn, with the help of father Miguel.
What great conversation we had all day, learning all about what we each did in our lives, what we had done, what we hoped to still do. Fermin is a chiropractor, and director of VA Family Chiropractic Health Center. He gave me some good tips during the day, about my health, and I'm still waiting for the bill to arrive in the mail. Stacy is a writer and Director of Legislative Grassroots for The National Treasury Employees Union, representing federal employees from many agencies. She has since sent me some contacts of literary agencies for my novel… a book which was almost published nine years ago, but which had to be shelved and became an "economic ripple" (because of its storyline) after the 9/11 attack on the World Trade Center. I really appreciate her help with that. Miguel is an engineer for a major hotel chain, in charge of a huge staff which keeps EVERYTHING running right for their customers. And Kirstie, if I remember correctly, is a stay-at-home Mom… the hardest of all the jobs!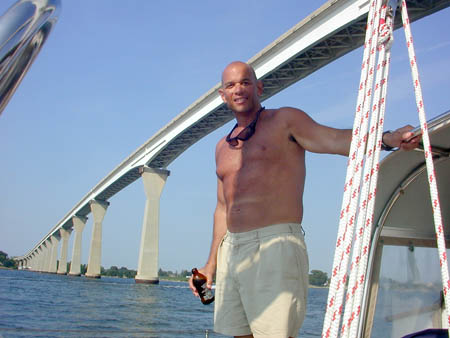 The wind came up and it was a bit choppy out in the Bay, so we took advantage of the SW wind and came back into the Patuxent River, sailing under the Solomons Bridge.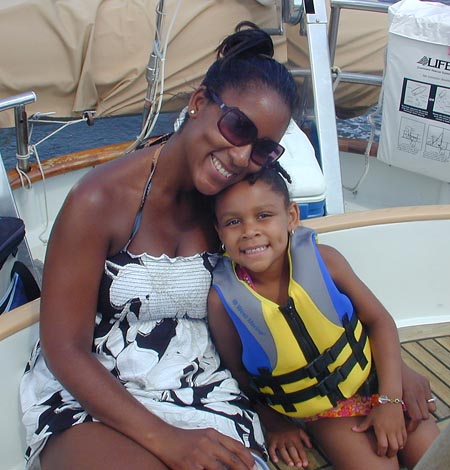 The calmer waters made little Naiya happier, and we were able to sail all the way up to Broome's Island before having to turn around to head home.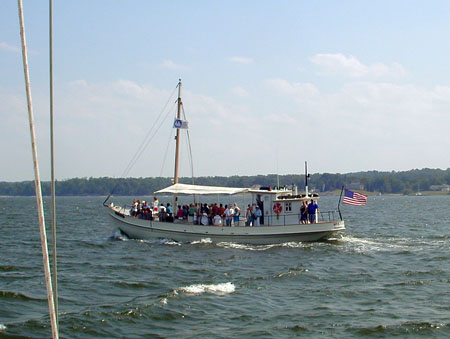 On the way back, we passed the Tennison, the tour boat for the Calvert Marine Museum. The Museum is a great place for adults and children, and the Tennison gives you a great ride around Solomons and the Patuxent River.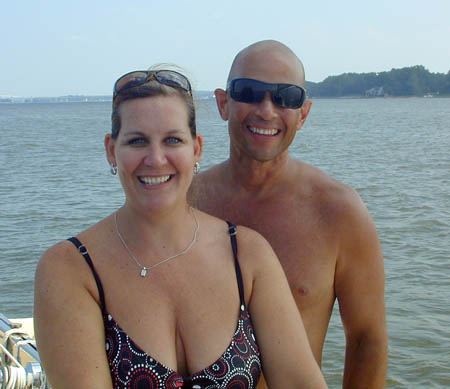 This was a really enjoyable day for me, and for the two families who came aboard. They're coming again in August, and I'm really looking forward to spending more time with them. What a great benefit for me, meeting people like this… just from taking a simple afternoon sail on the Chesapeake Bay.
Tags: charter, Chesapeake, Chesapeake Bay, Heron, maryland, sail, sailing, schooner, solomons, solomons island, wind