Herb and Connie brought their friends Steve and Janice Lynn and Wayne and Linda along for a day sail aboard Schooner Heron on this breezy and sunny Saturday. It was blowing pretty well, as we made our way past Solomons Island, out the Pax River and into the Bay.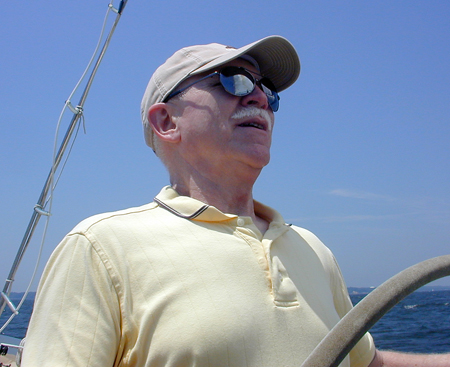 Me thinks Herb has a bit of the pirate in him. He had that "Show me that horizon," look in his eyes as Heron took off in the fresh breeze with her full genoa, staysail and main, and he stood the helm for a good part of the day.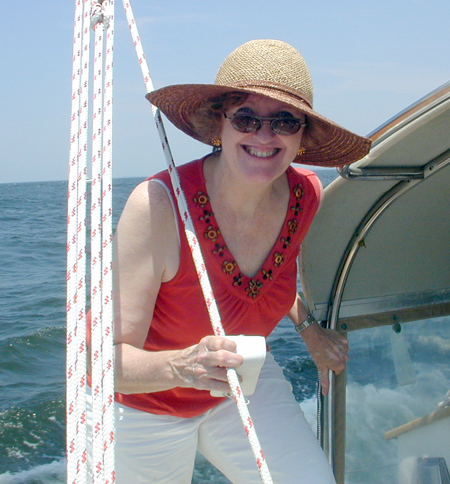 As we sailed along, Connie was finding her sea legs and painted a pretty picture against the backdrop of the Bay.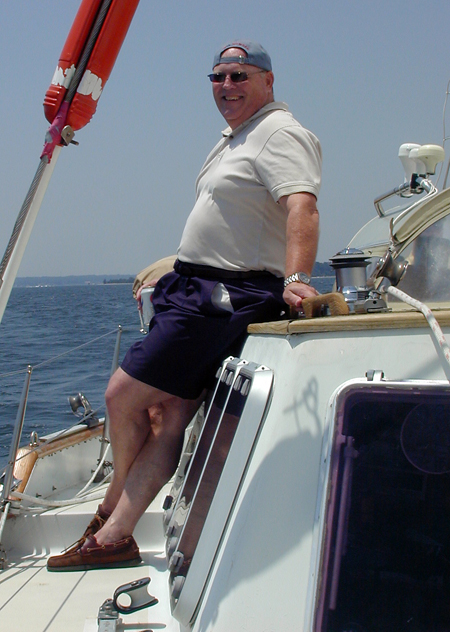 Wayne is an ex-Navy Pilot, and ex-aerobatics instructor… I think he was hoping I'd be able to put Heron through a few barrel rolls or loop-dee-loops. Wasn't gonna happen.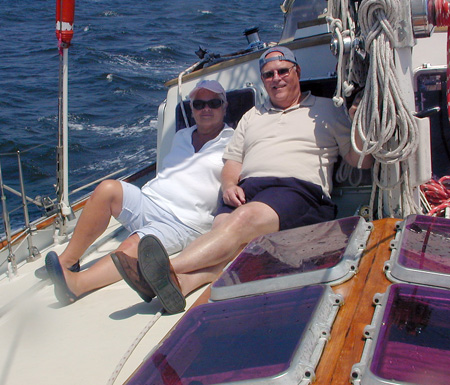 While Wayne and Linda found a nice spot forward of the pilot house on the starboard side, Steve found his spot on the port side of the boat, and (I have his permission to show this photo!!!) a few minutes of gentle rocking and rolling found him snoozing away… mouth open…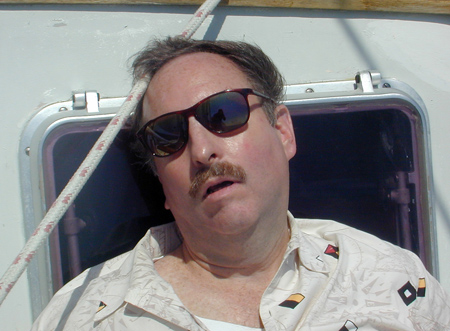 In the cockpit, we were wondering if they make suntan lotion for tongues. When Steve woke, he told us that he was bleaching his teeth, the natural way.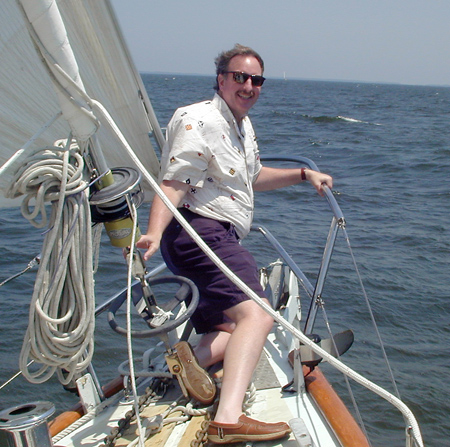 Steve found his way forward to that great spot on the bow. He enjoyed it so much, he was up there for about 20 minutes, regardless of the spray that was coming aboard each time we hit a wave.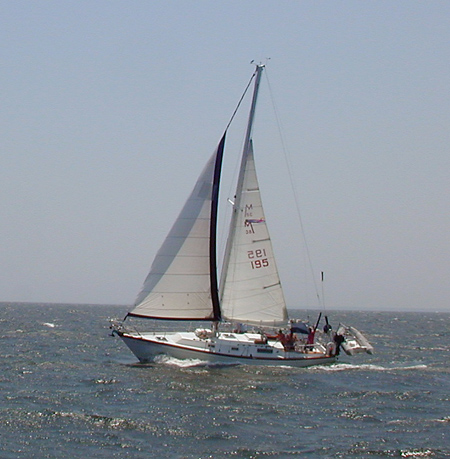 After about an hour of charging south down the Bay in a strong SW wind, we turned around and headed back towards the Pax River… the idea being, that we would sail up River, enjoying the strong breeze but making the boat more comfortable in the calm waters of the River. It was still blowing hard, so when we tacked north, I left the staysail wrapped up to make the boat more comfortable for the crew, and we sailed with full genoa and full main. Smaller boats were reefed well down, as the photo above shows. This boat was being well handled with a reefed main, and his genoa rolled in about half way.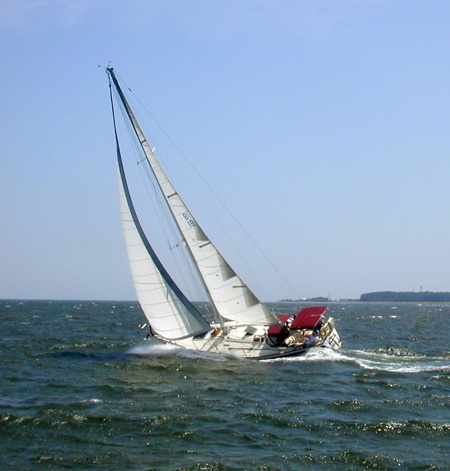 Other boats were having a good time running full and by, all sails up and out, burying their rails and holding on to their drinks. That old sailing adage: One hand for the boat, one hand for the beer!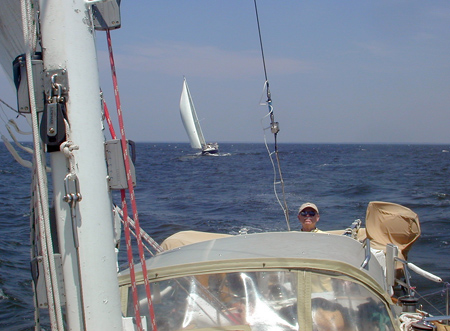 Whenever there are two sailboats, there is a race. As we were making our way to the mouth of the Patuxent, a handsome sloop was coming up behind, trying to catch us. She was running full and by, and I had my staysail furled, so not only was I underpowered, but the hole in the middle of the sail plan — genoa/nothing/mainsail — was stalling the total airflow and power of the sails. But, Heron held her own, and the sloop was unable to catch us. I kept going back and forth, "I should pull out my staysail and blow his doors off," and "I'll keep the sail furled, to keep the boat more comfortable for my crew," and "It's just my ego at work, wanting to beat the guy," and "I want the other captain to feel good about himself, creeping up on a larger boat." In the end, as we got into the calmer waters of the River, I pulled the staysail out because the wind was being somewhat blanketed by the closeness of land. We indeed quickly pulled away from the sloop.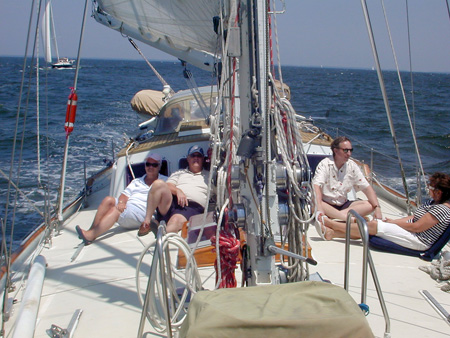 This shot shows the broad expanse of deck that Heron has, allowing her guests to lay about comfortably, in sun or shade, depending on which sails are up and which way we're going. That sloop is still trying to catch us!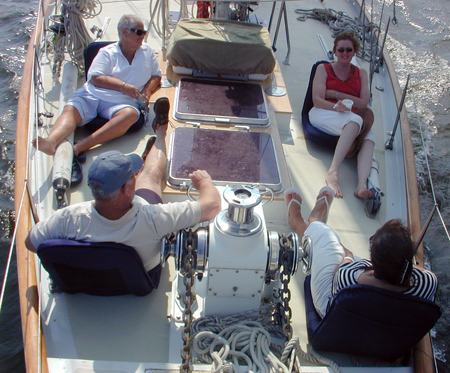 Here, Connie, Wayne, Linda and Steve are way forward, lounging in these great blue cushions. Available in any marine store, they're so amazingly comfortable. Adjustable to any angle that you like, your weight provides the stability of the cushion, and the backrest gives you the most wonderful support. We have six of these aboard Heron and guests take them all over the boat to find a spot to relax and enjoy the sail. Nothing like a monster windlass to provide a good arm rest.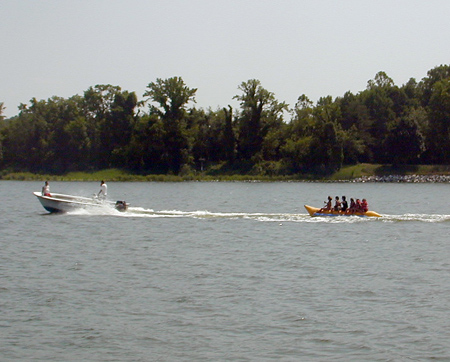 As we sailed up River, we saw many folks out on their boats, enjoying the day. In this photo, a boat was pulling a giant banana with six kids hanging on. That looked like a lot of fun.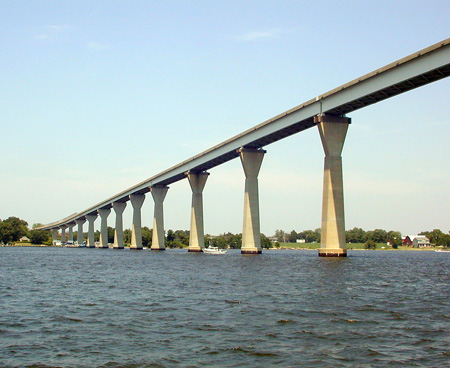 Coming back down the River, as we headed to the dock, we went under the Solomons Bridge for the second time. Beautiful perspective from down below. When I'm driving over this bridge, I'm always looking at the boats down below. When I sail under the bridge, I'm always thinking of the cars up above. "Where are all those people going?"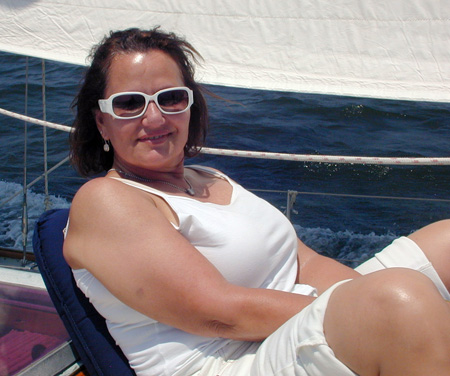 All in all, another nice day. The SSW wind allowed us to improvise and sail up the Patuxent River, to provide a more comfortable ride for the crew. We lounged around, we ate, we had some lively discussions… What more can you ask for?
Tags: charter, charters, Chesapeake, Chesapeake Bay, Heron, schooner, solomons, solomons island