June 6th brought Peter and his wife, "birthday girl" Teresa, with their family and friends, down to Solomons Island in Southern Maryland for a charter aboard Schooner Heron, and unlike June 5th, this day we enjoyed strong winds gusting to 25 knots. Peter loved every minute of it. In clandestine emails the week before (hiding the surprise from Teresa), Peter confidently predicted excellent conditions for a sailing day, and sure enough, his predictions were accurate. I think I'm going to start having him buy me lottery tickets!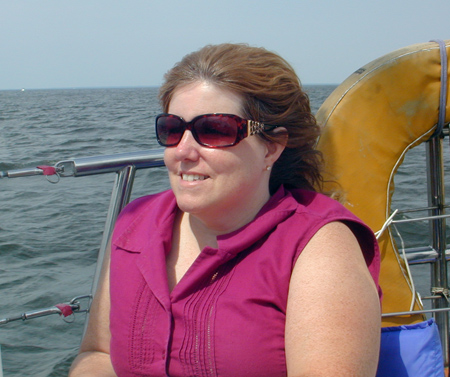 Now, how's this for romance? 25 years ago, when they were married, Peter told Teresa that he would take her sailing someday. Well… fast forward, 25 years, and here they were. Yes, they've been all over the world together in various adventures, but never sailing. This was a surprise for Teresa, right up until the last moment. The rest of the family knew what was going on, but she was in the dark. "Why are we driving to Solomons?" "Whose house is this?" She walked up to my front door, came into my house, and STILL didn't know who I was or why she was there. Then she was able to look through my back windows and see the boat docked out back, and Peter told her, "We're going to go for a sail!" You don't find this kind of romance and creative expression of caring very often in today's world, and it was really nice to be a part of it all.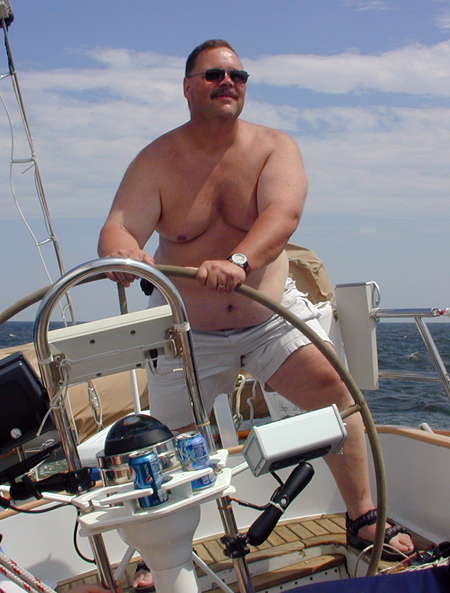 I mean, look at Peter. He's a big guy, an Administrator at a prison, in charge of the guards… He's a tough guy. But inside… he's just a big softy! (Sorry Peter… I didn't mean to say that! Don't hurt me!)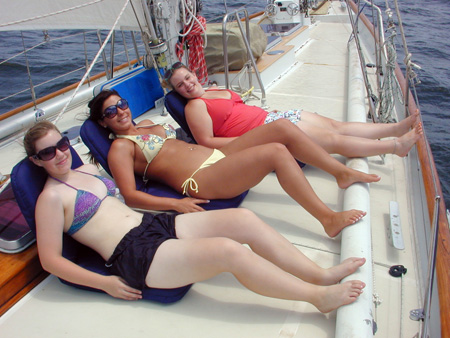 Once again, I have to say, I love my job.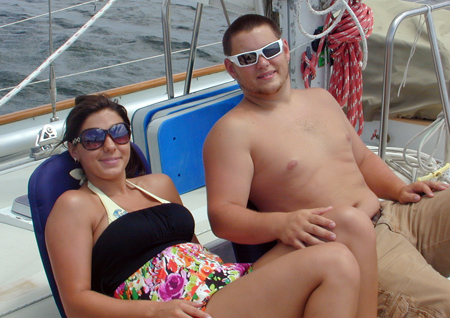 Peter's son Justin and his girlfriend Jessica had just come back from a week at the ocean, so they were all tanned up nicely. The hot sun we had on Sunday during the sail was no problem for them.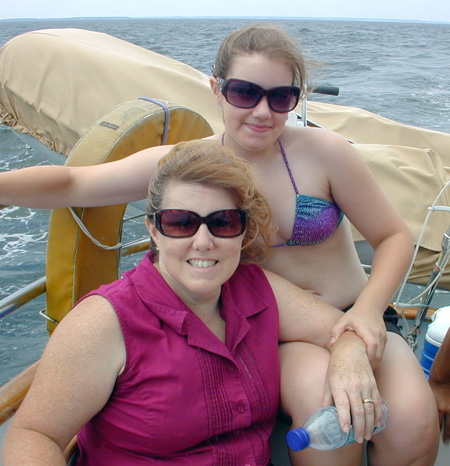 Daughter Paige, on the other hand, started out the day very white. We all kept an eye on her and made sure she was well coated with sunscreen all day. By day's end, she had all these weird pink shapes where different things had gotten in the way of the sun. Well, give that a day or two and it all evens out.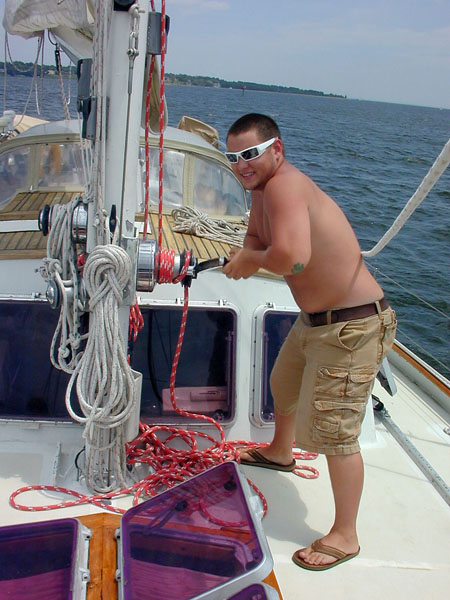 Once again, with a strong, young man aboard, I got some help in getting up the mainsail. Jeez… with Justin's muscles, we didn't really even need to use the winch.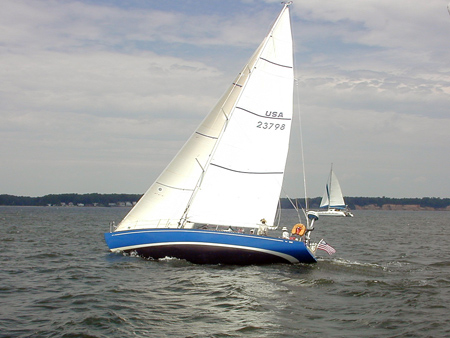 When we're out on the Bay, inevitably we have some beautiful boats passing us. Here's a shot of a beautiful sloop lifting her skirts (my expression for a boat that is heeling way over) as she goes on past.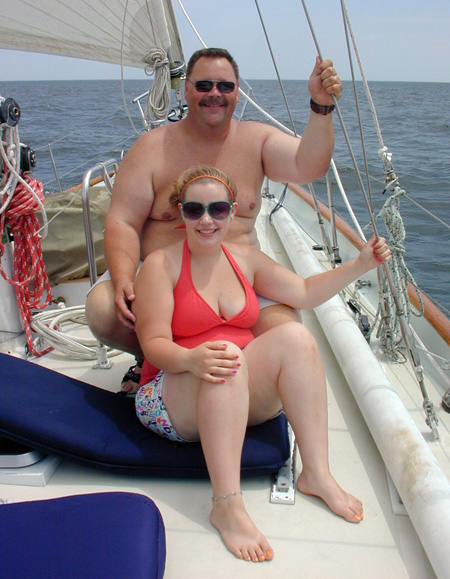 Here's Peter with his daughter Abby. I've said it in blog articles before, and I'll repeat it every single time, getting out on Schooner Heron for a daysail is a great way for families to spend time together. It just is. Maybe I'll have a charter later in the season that proves me wrong, but so far, every single charter involving families has been a wonderful time for them to be together.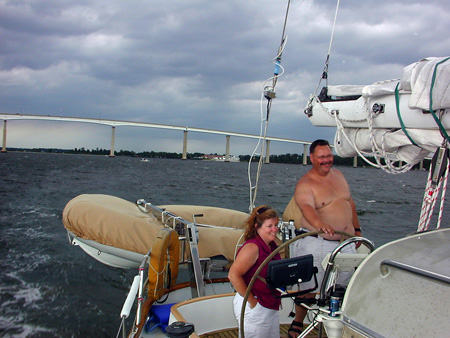 Towards the end of the day, a day which included a bit of seasickness (but we won't mention who) (or go into any descriptions), we were chased back to the dock by some very ominous looking clouds and thunderstorm cells. We had come in from the Bay to sail in the calmer waters of the Patuxent River, for the benefit of those who were a wee bit under the weather, but we only got as far as the Solomons Bridge before the dark skies had us shooting back to my dock.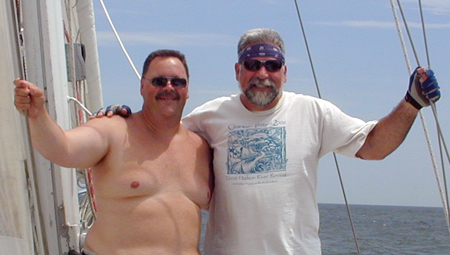 And once again, I've had to chance to meet some really nice folks whom, without this charter opportunity, I would have never met. I think this is the best part of the whole charter process for me… meeting people like Peter and his family.
Tags: charter, charters, Chesapeake, Chesapeake Bay, Heron, sail, sailing, schooner, solomons island, wind