Tim Young brought his family and a couple of friends down to Solomons Island for a charter aboard Schooner Heron on a day that provided fairly light air. It was the kind of summertime day that turns white skin pink, so we had to be careful about that.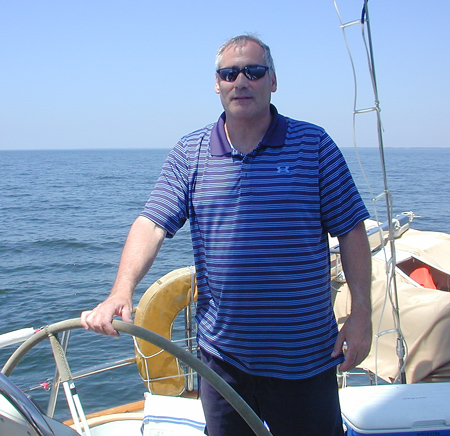 Tim spend most of his time at the wheel, and we managed to have at least three hours where the boat moved well through the water. Tim is thinking of joining the ranks of "boat owner," so we enjoyed chatting about different kinds of sailboats, pros and cons…It's pretty exciting to go out, looking for a boat. There are so many options, so many offerings, when looking at sailboats. More interior space, less interior space, better sailing characteristics, sacrificing sailing characteristics for more creature comforts… Where will you be sailing? Around the world? Around the Chesapeake Bay? Up and down the coast? Down the Islands? There is lots to think about and take into consideration before taking the plunge. And of course, no matter what you buy, you're always thinking of your next boat! But in my case, I think I've settled down with my schooner, Heron. I've owned her for about 14 years, and I can't think of another boat I'd like to have over her. What can I say? I'm committed.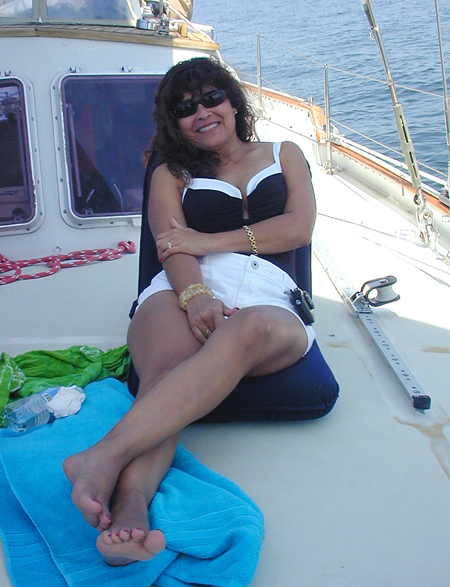 Tim's wife Zoraida is from Panama, and it was very interesting chatting with her. She's wicked smart (can you tell that I've lived in Maine?), an engineer, and full of surprises. And, she was a bit of a hero during the charter, but it had nothing to do at all with her noticing another boat close ahead of us while one of us (it wasn't me, it wasn't Jennifer, it wasn't Tim, it wasn't Michelle, and it wasn't Zoraida…) was at the helm.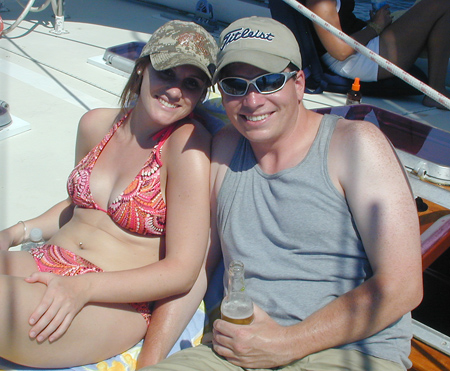 Tim's daughter Jennifer and boyfriend Dan were aboard. Jennifer was also wicked smart, and totally into her career, working towards becoming an occupational therapist. She's just finishing school, but has been working with challenged children already, for a long time. What a pleasure to see a young person doing such fine work, helping others in such a big way.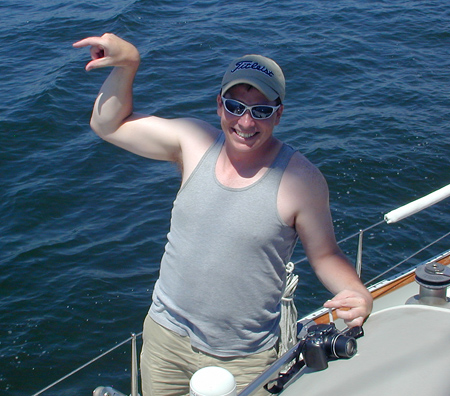 Dan, the Man… doing marketing and planning at Lansdowne Resort near Leesburg, VA… He really enjoyed himself on the boat, even though, as I said, we had light airs. When the wind picked up and we started moving along nicely, he really got into it. I asked him, as one point, "Where is the beach?"  This was his reply.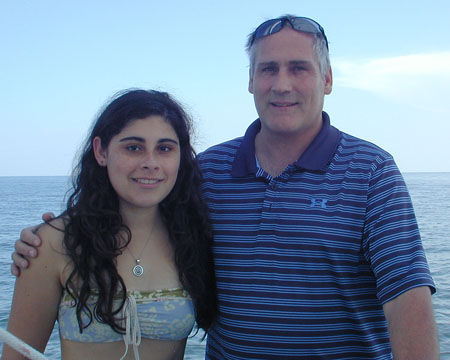 Once again, the daysail was a good way for family and friends to spend time together. Daughter Michelle brought her friend Leanne, and the two hung out together for the day, stopping rays. Leanne was VERY white at the start of the day, but she slathered on plenty of sunscreen and went home sporting a mild pinkish color.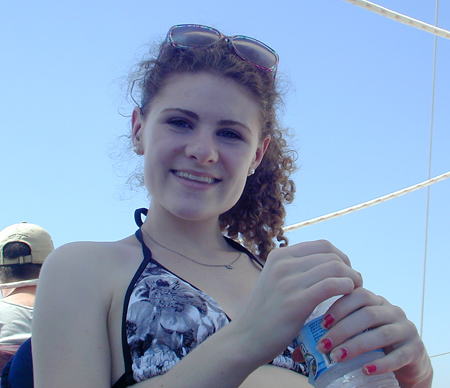 And for me, another chance to meet and hang out with some really nice folks. What can I say? I guess the whole concept of a relaxing, personalized, charter aboard a beautiful boat like Schooner Heron really pulls the nice folks out of the woodwork. I'm just enjoying myself meeting interesting and friendly people from all walks of life, all ages, with different backgrounds… and what are we doing? We're going sailing on the Chesapeake Bay! Whoo Hoo!!!
Tags: charter, charters, Chesapeake, Chesapeake Bay, Heron, sail, sailing, schooner, solomons island, wind